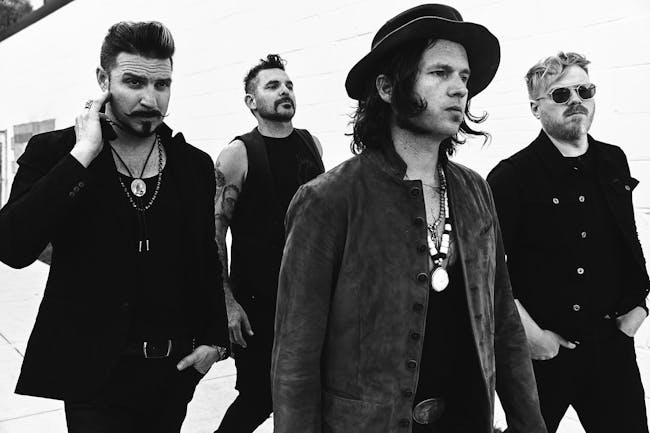 Presented by WDHA and White Eagle Hall
Rival Sons
JJ Wilde
$27.50 - $127.50
Postponed
**This event has been postponed. The rescheduled date will be announced soon. Please retain tickets as they will be valid for the new date**
Pressure & Time Evoking the bluesy rock of bands like Led Zeppelin and the Black Crowes, California's Rival Sons emerged in 2012 as hard rock classicists with a modern edge thanks to their breakout second album Pressure & Time. Establishing a strong collaborative bond with Nashville producer Dave Cobb to helm each of their albums, the Long Beach band enjoyed success at home in the U.S. while becoming perennial chart staples throughout much of Europe thanks to releases like 2014's Great Western Valkyrie and 2016's Hollow Bones.
Formed in 2008, the quartet of Scott Holiday (guitar), Robin Everhart (bass), Mike Miley (drums), and Jay Buchanan (vocals) captures that massively huge, guitar-driven classic rock sound, with rock-solid drumming and a riff-oriented approach to songwriting backing up Buchanan's soaring vocals. Shortly after forming, the band self-released its debut, Before the Fire, in 2009, produced by Dave Cobb. The quartet got some exposure when its song "Tell Me Something" was used in an ad campaign for Indy car racing, and the following year they opened for some high-profile acts, including hard rock legends Alice Cooper and AC/DC. That same year, Rival Sons made the unlikely jump to extreme metal label Earache, who signed the band after coming across their music online.
In 2011, the band released its follow-up album (and first physical release), Pressure & Time, with artwork by Storm Thorgerson. It was voted Classic Rock magazine's number two album of the year. They were also invited by Amy Lee to tour the U.S. with her band Evanescence. They stuck with the classic rock riffs and blues-influenced sound on their third record, Head Down, which was released in 2012 to widespread critical acclaim and was a modest hit locally and in Europe; its greatest success was in Scandinavia, where it hit the Top 20 in three countries, including a number six chart position in Sweden. Rival Sons toured heavily in support, playing the Download Festival and supporting Kiss and Sammy Hagar.
Due to the rigors of touring, Everhart left the band in late 2013 and was replaced by Dave Beste. Their fourth full-length, Great Western Valkyrie, was recorded in early 2014 in Nashville with Dave Cobb producing. It was issued in June. Rival Sons reconvened with Cobb in Nashville to record their fifth album, Hollow Bones. The pre-release single, "Hollow Bones, Pt. 1" was streamed to the internet in March 2016. The album -- again featuring Thorgerson's artwork -- was released in June. Along with eight originals, it included a cover version of "Black Coffee," written by Ike & Tina Turner and immortalized by Humble Pie. Over the next two years, Rival Sons supported both Deep Purple and Black Sabbath on tour and in 2018 announced that they'd signed a deal with Cobb's Elektra imprint, Low Country Sound, which released the single "Do Your Worst" in September of that year. That track, along with the blazing "Back in the Woods" appeared on the group's sixth studio long-player, the Grammy-nominated Feral Roots, which arrived in January 2019. Their third effort to chart on the Billboard 200, it also featured the single "Too Bad," which was nominated for a Grammy for Best Rock Performance.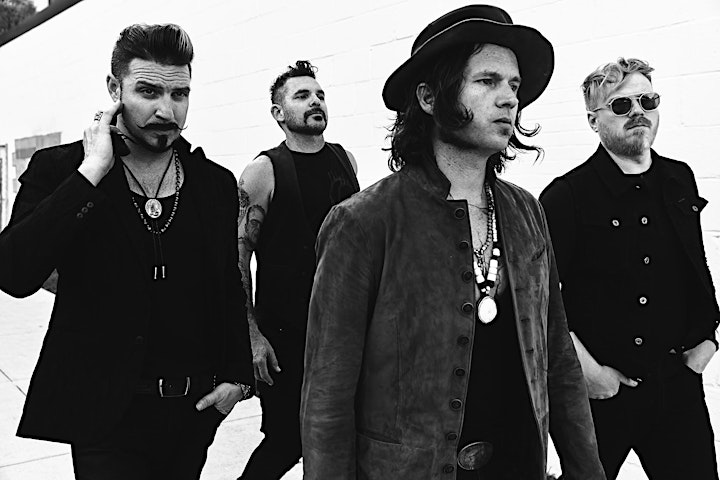 Venue Information:
White Eagle Hall
337 Newark Ave
Jersey City, NJ, 07302