Presented by White Eagle Hall
Reverend Horton Heat
Voodoo Glow Skulls
The 5.6.7.8's
Dave Alvin
$27.50 - $30.00
Sales Ended
The Reverend Horton Heat's Holiday Hayride is one for the ages in 2019! Voodoo Glow Skulls, The 5.6.7.8's and Dave Alvin add to the joy!
Loaded .38s, space heaters, and big skies. Welcome to the lethal, littered landscape of Jim Heath's imagination. True to his high evangelical calling, Jim is a Revelator, both revealing and reinterpreting the country-blues-rock roots of American music. He's a time-travelling space-cowboy on an endless interstellar musical tour, and we are all the richer and "psychobillier" for getting to tag along.
REVEREND HORTON HEAT have been the outlet of this creative mind for 29 years, leading to 10 full-length albums, 3 "best-of" collections, 2 DVD releases and thousands of memorable live performances. Never reaching platinum status or having a #1 radio single hasn?t been a problem for the Rev either, the band has continually been a mainstay of late night television and has toured with legendary acts such as Johnny Cash, Motorhead, Marilyn Manson, The Ramones, and many more, all of whom hold the Rev in the highest regard, as a true music industry legend.
Now, entered into a fresh new partnership with Victory Records, REVEREND HORTON HEAT show no signs of slowing down in 2014. January 21st marks the release of their 11th studio album, appropriately titled REV. The album marks a much lauded return to riff-laden, out-of-control rock 'n roll that fans fell in love with when they first heard "Psychobilly Freakout". The album's first single has already turned heads; "Let Me Teach You How to Eat" is REVEREND HORTON HEAT at its finest: tongue-in-cheek and so catchy, it won't leave your head for weeks.
The band has an incredible tour history and, with major shows and tours already booked throughout the year, will make sure you get the chance to dance one more time! Jim Heath and Jimbo Wallace have chewed up more road than the Google Maps drivers. For twenty-five psycho(billy) years, they have blazed an indelible, unforgettable, and meteoric trail across the globe with their unique blend of musical virtuosity, legendary showmanship, and mythic imagery.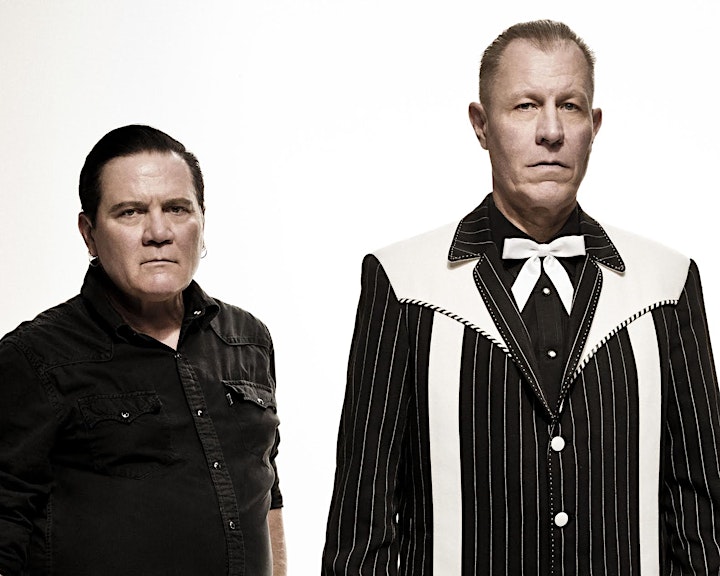 VOODOO GLOW SKULLS
Fire in the Dancehall
VOODOO GLOW SKULLS have repeatedly labeled their unique fusion of punk, metal, ska and Latino swing as ?California street music.? So this time around, they decided to make it official. 2007's Southern California Street Music, is their first release since 2004 and the latest installment in their epic career. VOODOO GLOW SKULLS have been praised by everyone from Rolling Stone to the legion of fans that have followed the band since their backyard parties in Riverside, CA. Brothers Frank, Eddie and Jorge Casillas, along with fellow founding member Jerry O?Neill, have crafted an outfit that has stood the test of time and constantly thrived. Armed with a blazing horn section featuring Brodie Johnson and James Hernandez, VOODOO GLOW SKULLS are aiming to make Southern California Street Music their masterpiece. After forming in 1988, the band diligently honed their sound in DIY quarters before moving to yard parties and caf? shows. The band?s background in ska and Latino music resulted in the addition of the horn section three years later. They continued to erupt in the indie scene, and soon a national tour was on the horizon. Days of jamming in caf? shows with the Mighty Mighty Bosstones gave way to headlining and supporting ska-influenced acts such as 311, The Offspring and No Doubt. VOODOO GLOW SKULLS? popularity was cemented. And with over 500,000 records sold worldwide, fans of all genres have taken notice of this driven and passionate unit. A large part of the group?s steady draw is that it never tries to reinvent itself with a brand new sound or drastic changes ? the band makes music that appeals to them and their devoted fans. So the band felt little pressure when entering the studio for Southern California Street Music. ?This was the most relaxed approach we?ve taken recording an album, plus the longest we?ve ever taken,? Frank said. ?We went into the studio with the mentality of having no deadline; there were only our own expectations,? he said. ?We?re not writing music for other people or a popular style; we have to like our music first.? VOODOO GLOW SKULLS are clearly still meeting the expectations of their fans, as diverse crowds of old and young frequent their boisterous performances. The band?s fan base has spanned over two generations, and they continue to reel more in with their fresh approach to avoiding the popular conformity of punk rock today. The tracks on this record range from war-torn fears (?Air Raid Sirens?) and depression (?Discombobulated?) to the sweet nostalgia of the band?s home on the title track. The second track on the album, ?Fire In the Dancehall,? is a signature VOODOO song to keep your feet moving one second and your head thrashing the next. The band proves its flexibility on the next song, a nautical chantey to an inebriated pirate amphibian branded ?The Ballad of Froggy McNasty,? which is chronicled in a Claymation extravaganza now on YouTube. Casillas says this album, their third with Victory Records and the eighth of their career, is in a new league of songwriting for the band, as well as musical and lyrical maturity. The band?s dark humor and jabs at life?s injustices has provided them with a depth in the ferocity of their music. But not so fast ? VOODOO still know how to keep people moving with their vibrant ska sound. Whether ranting about economic disparity or engaging in a lighthearted sing-a-long, VOODOO GLOW SKULLS want to entertain.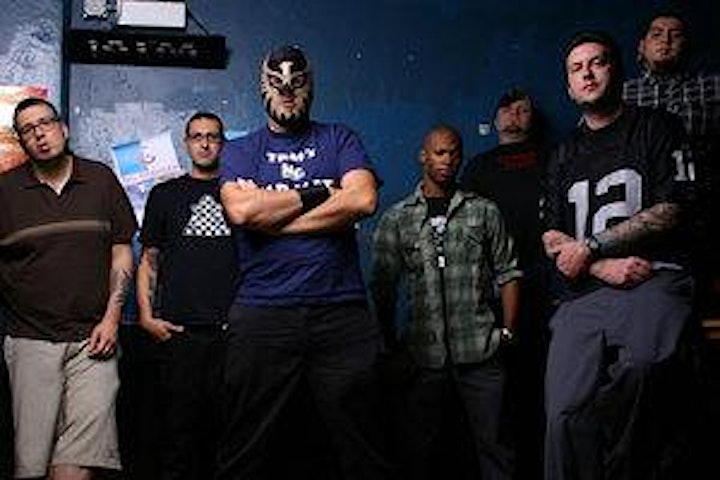 The 5.6.7.8's are a Japanese rock trio, whose music is reminiscent of American surf music, rockabilly and garage rock. They frequently cover songs from American rock and roll. All members are from Tokyo, Japan.
The 5.6.7.8's first started performing as a quartet in Tokyo, and recruited guest performers during their Australian tour, once even utilizing a male member, "Eddie". They first officially became a trio in 1992, before touring Australia.
The 5.6.7.8's made a brief appearance in the 2003 Quentin Tarantino film Kill Bill Volume 1, where they were shown playing barefoot in an izakaya.
In 2012, they appeared at the "Girls Got Rhythm" fest in St. Paul, MN alongside artists such as Ronnie Spector, The Muffs, Nikki Corvette and L'Assassins.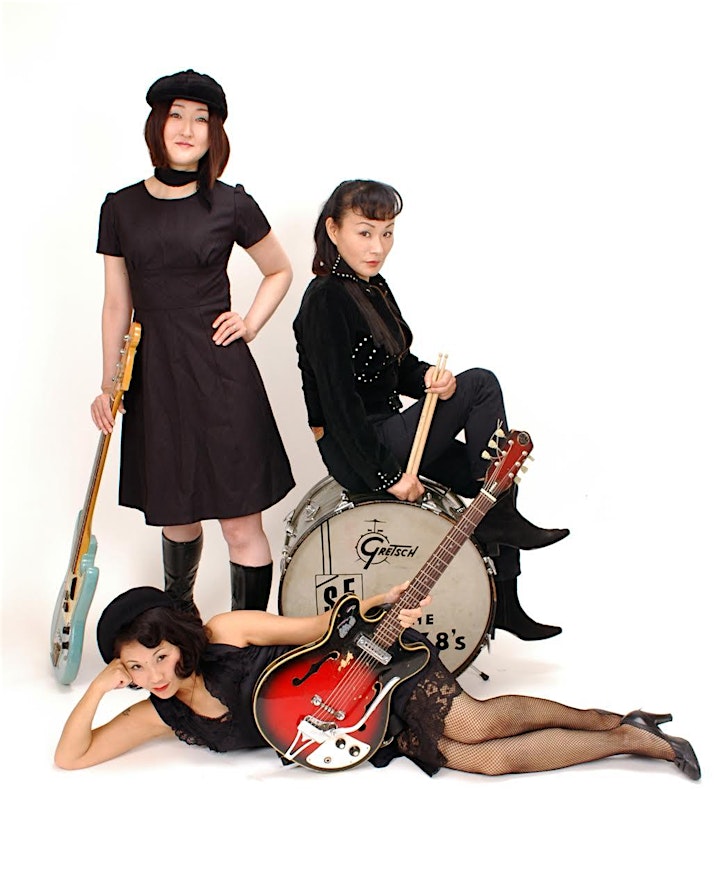 Recorded in Los Angeles the day after the historic 1994 Northridge earthquake and produced by Greg Leisz, King of California had its genesis in the album's title track, a readymade folk ballad, written for his mother, in which an aspiring suitor heads west to make his fortune in the wild, still young Golden State. 'King of California' is when I decided I would let the song tell me what it sounds like,' says Alvin. 'Ever since then, that's been my rule.'
Featuring acoustic interpretations of some of the finest songs in his catalog, along with new, folk inflected compositions, and notable covers, Dave Alvin found the true measure of his own voice with King of California. 'It was ironic that for a guy who was known as a loud guitar player and questionable singer, his best seller was an acoustic album,' says Alvin.
Included are songs written and originally recorded during the '80s like: 'Barn Burning' from American Music (1980), 'Bus Station' and 'Leaving' from the Blasters' Non Fiction (1983), 'Little Honey,'written with X's John Doe and featured on the Blasters Hard Line (1985), and the 'Fourth of July,' which appeared on both X's See How We Are (1997) and on Romeo's Escape (1987). 'Every Night About This Time' also appeared on the album.
Like the records he made as a member of the Blasters, King of California features a variety of covers, including Tom Russell's 'Blue Wing,' Dallas singer pianist Whistlin' Alex Moore's 'West Texas Blues,' retitled 'East Texas Blues,' Memphis Slim's classic 'Mother Earth,' and 'What Am I Worth,' a George Jones song, featured here as a duet with the incomparable Syd Straw. The album also includes co writes with Rosie Flores ('Goodbye Again') and John Doe ('Little Honey').
'I'm real proud of it twenty five years later,' Alvin says. 'The whole process was a revelation, to record with everybody in the studio sitting roughly in a circle. Sitting there on the edge of my chair with an acoustic guitar knowing that if I blow this chord we have to start over. And I could use my voice; when I was recording electric my voice couldn't lead the band. In this situation I could. That allowed a certain openness and freedom I hadn't experienced before. And for Greg, this was his baby, his chance to produce me and get my voice right. His calmness in all of this led to the vibe of the record.'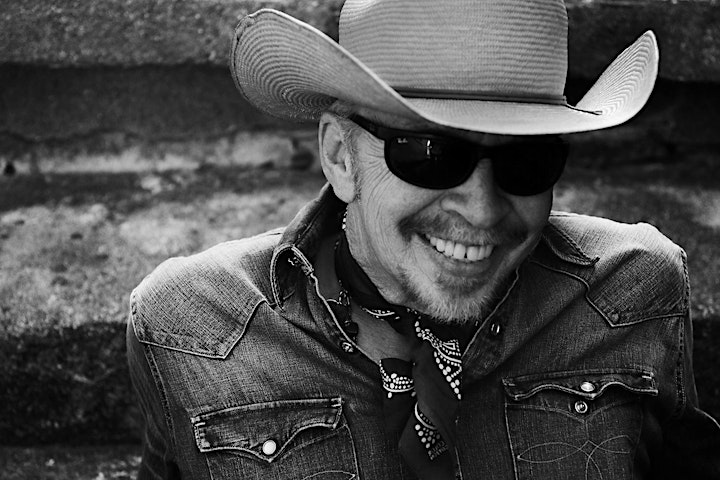 Venue Information:
White Eagle Hall
337 Newark Ave

Jersey City, NJ, 07302